As 2020 wore on, we grappled with rapid, seemingly relentless upheaval.
Events we would normally look forward to, from gatherings with friends to big Thanksgiving dinners, were replaced by an exhausting, often isolating sameness.
As our orbits grew smaller, we found new ways to break the monotony of the hours, days, and weeks. To mark the passage of time in a year we need to remember even as we want to forget.
-John Bender & Sofia Rudin
"Inspired by Lynda Barry's COVID diary, which appeared in the New York Times in May, I decided to keep my own collage diary. I began with the simple prompt, 'When did this become real for you?' I never could have imagined all of the unlikely and devastating events that were to unfold in the coming months. So many deaths: George Floyd, Breonna Taylor, Ruth Bader Ginsburg, John Lewis. So many unbelievable and terrifying things were happening—fires in California, a mass death of pilot whales, violence against protestors, political strife, and always the numbers of COVID dead kept mounting. This pandemic has touched so many that no one can remain unaffected—I'm including a few pages from May and July as an example. The "old" normal was never really fair. One hopes that the "new" normal, whatever form that might take, will be more just, but there is never any guarantee unless we fight for it."
– Martha Kuhlman
All of Kuhlman's collage diary pages are available through Bryant University, where she is a professor of comparative literature. The May 28, 2020 collage is also featured in the RI COVID-19 Archive.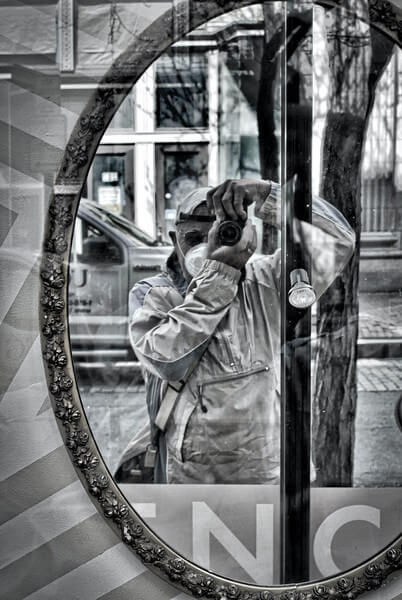 "For many years I have been inspired by, and still turn to, the great masters who documented the Dust Bowl. Working under the direction of Roy Stryker of the Farm Security Administration, a group of incredible photographers set out to record the human, natural, and economic devastation of that event in 1939. If you have not seen the work of Walker Evans, Dorothea Lange, Marion Post Walcott, John Vachon, Russel Lee and the great Arthur Rothstein, I urge you to look.


I have been trying to make photographs since 1967, at the age of 15. Now, close to 69 years old with 54 years of photography behind me, I continue to try. Considering the influence that the above greats had on my love of photography I felt the strong desire to attempt the documentation of our shared condition."
Some of Alan Roseman's photographs are also featured in the RI COVID-19 Archive.
"The artwork I have been making in 2020 explores my connection to my home and community during a time of isolation. As my days were limited to walks in my neighborhood, I was drawn to the ocean on weekends. The smell, air and beauty of the ocean brought me peace. The expanse of the ocean, the antidote to the confines of my neighborhood. This piece focuses on those coastal walks, It was created using an ikat technique and dyed in indigo. It was handwoven using yarn repurposed from previous projects and reeds gathered at the beach."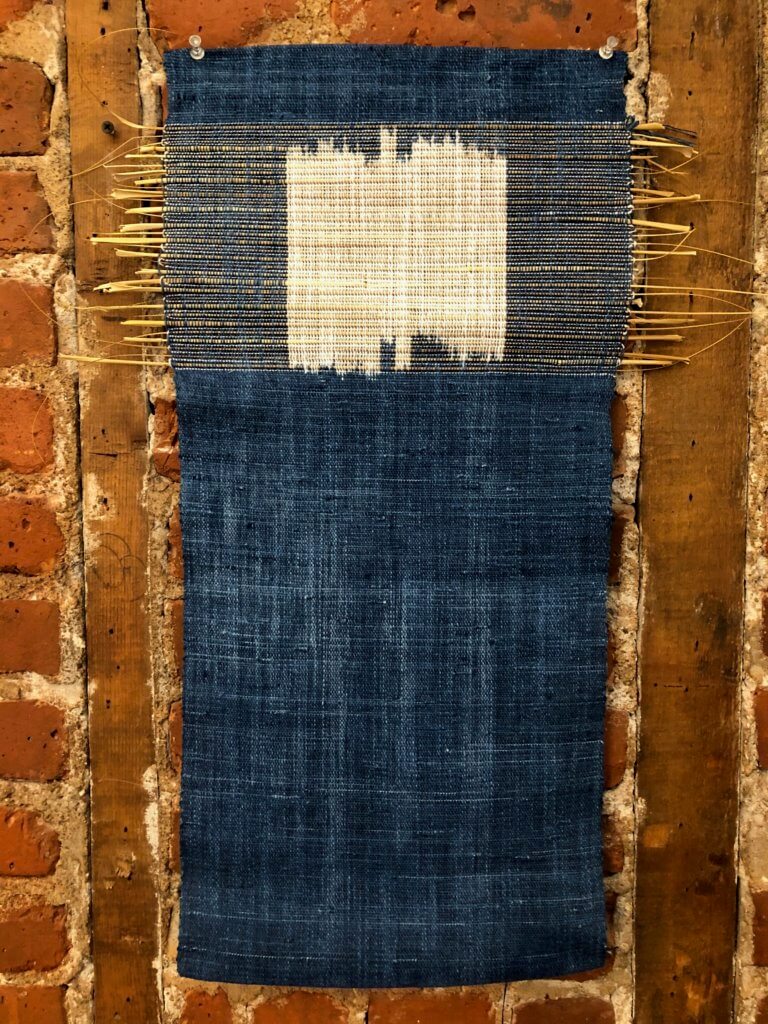 Impersonations in Isolation
June 5, 2020
Fatal Attraction
"Mid March, when everything started to close down, I was diagnosed 'elderly,' I decided to isolate myself. I stopped daily hair washing, a necessity when I went to the YMCA everyday and swam. After a few days I gave my hair a good brushing (BTW I have naturally curly hair) and not for the first time in my life did the name Roseanna Roseannadanna come to my mind. I picked up my iPhone and took a picture, found one of RR and texted this to my kids with the title 'Hair Impersonation.'  For the next few days I played with my hair and sent my kids texts of my 'Daily Hair Impersonation.'  Sadly my hair's talent was limited, when it ran out I wasn't ready to stop, I was committed. 
I was my own muse, model and photographer, I could only use what was in my house.  I upgraded from my iPhone to my iPad and eventually my son reminded me that it had a 10 second delay, what a life saver!! I would go into my guest bedroom, now 'art studio,' and in the crowded space work on my impersonations, take the photo, or I should say photos, so many deletes, and hours later another day in isolation would be over. I'd forgotten how much stuff I'd saved – linens, scarves, my mother's wedding gown, her cocktail dresses, her costume jewelry, my own wedding gown (OMG it still fit) my dad's garden implements etc etc.
I did this for 100 days. My son created a website and an Instagram account."
-Terry Trapani
Spread dough in a seasoned pan
with oven warming. Spread crushed red
tomatoes, salt them, pepper them,
garlic, oregano, cheese. My nana always
reminded me to spread tomato
and cheese all the way to the outside edge.
Sprinkle of olive oil and bake
for twenty-one minutes, not less,
that's her way. After removing
be certain (though you will not want to) 
wait five minutes before you cut and eat
or else hot oily cheese will flash-burn
a layer of skin from the roof  
of your mouth. A dentist once told me
the gums, the delicate soft inside 
a mouth is the fastest healing
part of the human body. Don't risk
the pain, though the burn will heal
in a matter of forty-eight hours,
that's more than five hundred times five
minutes. This is the way
an exponential process works. This is the way
the universe     is teaching me
patience.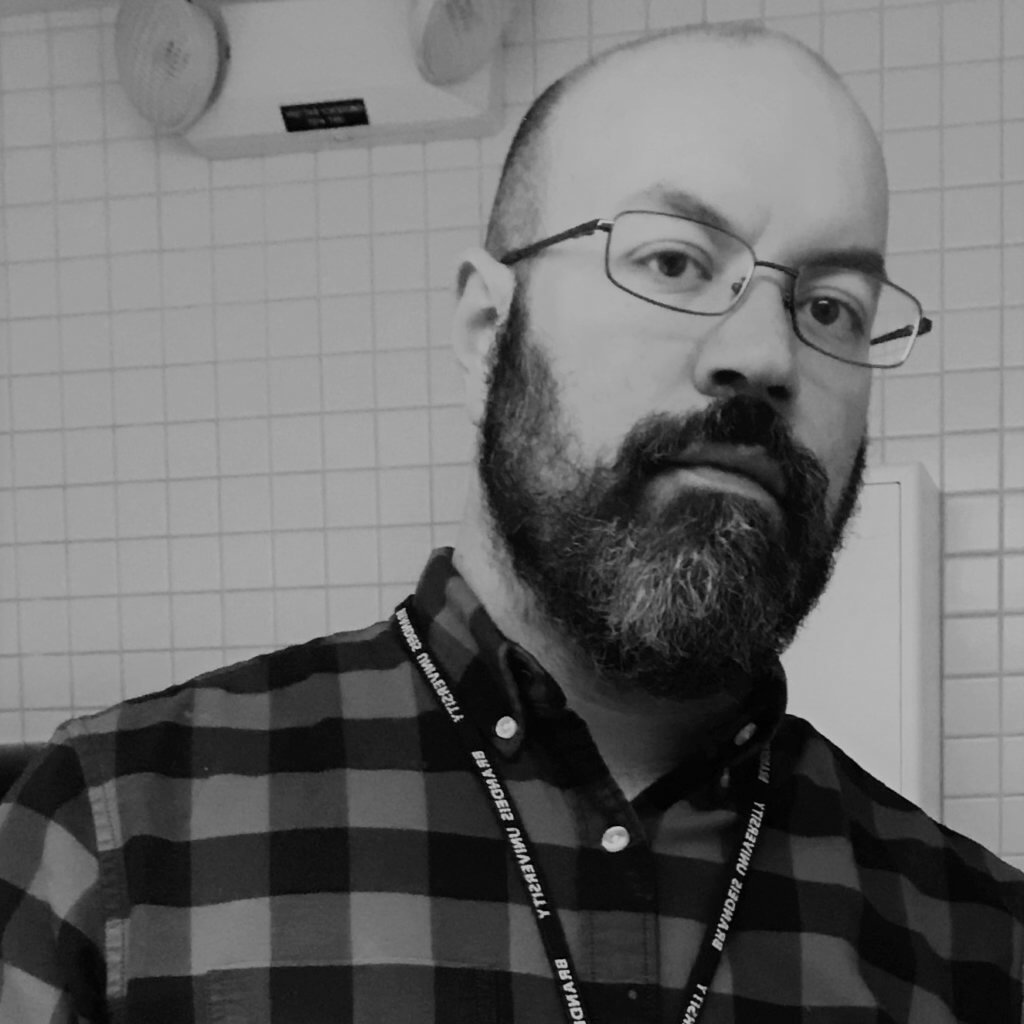 A Rhode Island native, Anthony DiPietro earned his MFA from Stony Brook University and now serves as associate director of the Rose Art Museum in Boston. His poems and essays have appeared in Notre Dame Review and numerous other journals and have won fellowships and residencies.
Hourly Comic from the "Durational and Isolational Birthday Celebrational 24 Hour Drawing Marathon!"
"For my 40th birthday I drew from midnight to midnight on April 29th, 2020, and streamed it live on Twitch. This is an hourly comic documenting it! It was part of the Providence Public Library's Adaptive Practices series."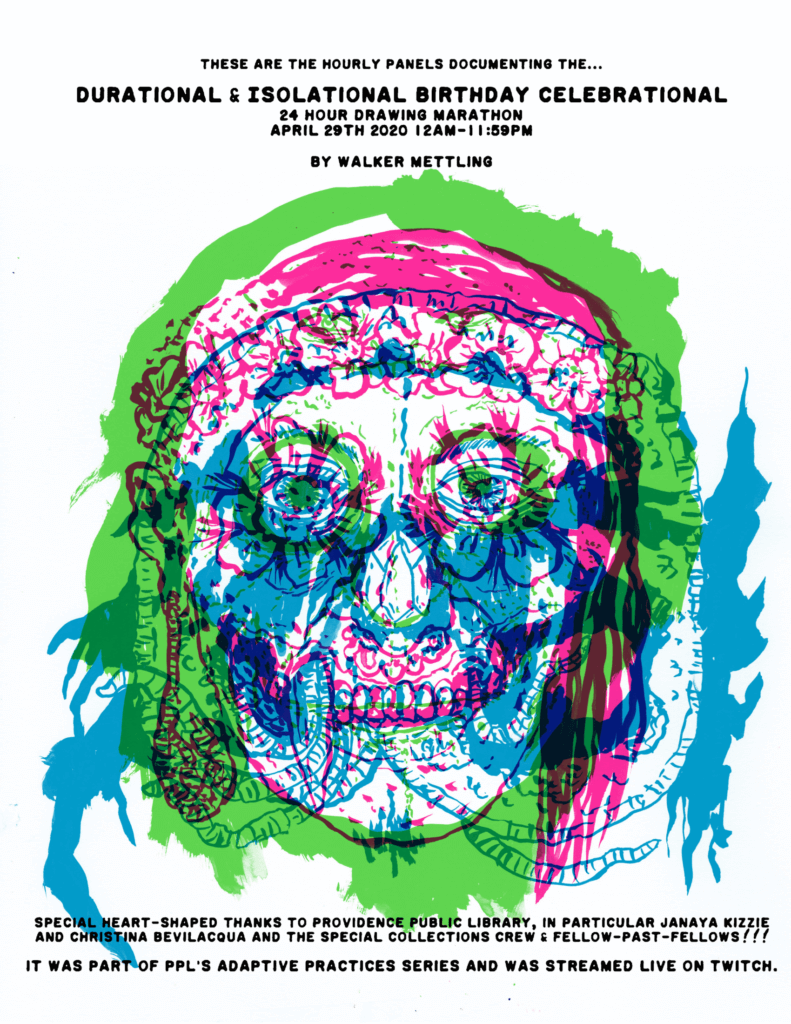 We are working on a WindOpus
to be performed
by musicians
in a building
each in isolated rooms
with amplifiers
or saxophones
in windows
played for
absolutely no one
but the setting suns
WindOpus is a project born out of the apparent isolation we found ourselves in at the outset of a global pandemic. The pieces score our own shared emotional turmoil. These pieces are designed to be played together, even if we must be separated.
WindOpus is a body of work that may be performed using five windows of a building as point sources for sonic emanation.  Performers of WindOpus self-conduct a set of timed durational concerts, using their own means and resources in the isolation of separate rooms.
In March and April of 2020, a dozen unique WindOpus compositions were written and performed by Joe DeGeorge, Brian Folan, and Andre Arsenault.  The performances took place at sunset and were conducted from the third floor windows of AS220's Empire Street building.  Several of these performances were captured on video by Lyza Baum.  In November of 2020 a DVD containing a few of these videos was produced to loop on a cathode ray tube television on display in a window at AS220 alongside printed versions of the WindOpus scores.
WindOpus upon completion will consist of 24 or more separate compositions, to be composed in each of the major and minor keys of a 12 tone even tempered scale.
WindOpus pieces as performed by their initial creators make use of synthesizers, music software, keyboards, saxophone, and drums, as well as other items that may be available to the performers.  Some elements performed out of windows include pre recorded elements, while others are improvised while adhering to the instructions written in the score.
Joe DeGeorge is a professional musician and composer.  He is a multi instrumentalist, and has performed and toured internationally with many groups, including Downtown Boys, Harry and the Potters, Hank Green and the Perfect Strangers, Math the Band, as well performed solo acts such as In Glove with Bach, and Sax Machine. He studied piano and composition for 12 years.  He also is an occasional printmaker.
Andre Arsenault is a proficient electronic music creator.
Brian Folan was involved in the creation of Windonuts, a D.I.Y. donut shop founded by Lee Delegard, Joe DeGeorge, and Brian Folan in 2012. Serving home cooked donuts from AS220's 3rd floor, donuts dropped down on a pulley for the community to enjoy at a pay-what-you-want price. This type of community-based art project sought no money and existed purely for the betterment of the community. It taught them how to engage with free-culture and embedded community into the fabric of the project. Brian 4 Ever is a performance/music project by Brian Folan. The many improvisational elements of this act has equipped Brian with the performance tools necessary to put himself in experimental and new situations artistically. Songwriting has also helped build compositions and create soundscapes for the project.

Lyza Baum is a textile and interdisciplinary artist. Her work is dependent on the context of the place and community which surrounds her, often addressing the personal and collective relationships to our built and natural environment. Through community engaged collaborations, textiles, photography, video, and performance, she investigates the trauma, tension, and complex symbiotic connections between the body and land we occupy. Often looking at environmental and sociopolitical ruptures, Lyza draws on metaphors between cloth, skin, and earth. Through durational performances and ritualistic practices, such as mourning rituals, she aims to create space for healing, empathy, and contemplation

.
"We lost a dear family pet a few months back. In the aftermath I instinctively began filling up our sunniest window with houseplants, I needed something to nurture in our pup's absence.
Although I am primarily a watercolorist,  I have also developed an interested in working digitally. I recently upgraded to an iPad Pro and Apple Pencil. The new hardware has rekindled my interest in daily sketching, and the houseplants have become a welcome distraction from the monotony of the Covid lockdowns."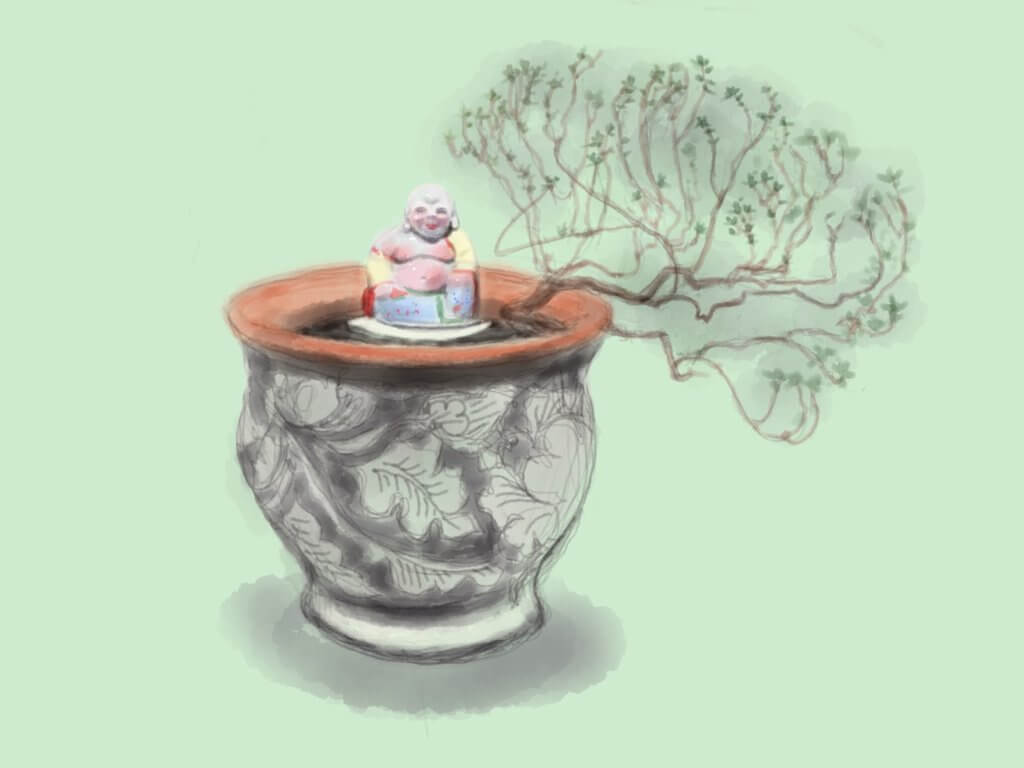 Little Buddha, Guardian of Houseplants
At a time like this
When bets are broken
When breath is held
When eyes don't look
When fingers point
when tall men become tiny boys
and small boys suddenly
become men
at a time like this.
And everyone shows their colors,
black and white,
true blue
or red,
at a time like this.

But there is no time like this
when reality is not a reality show
and no one shows
their real colors
not red, blue
not even green
at a time like this.

What can we do?
What is enough?

We can write.
We can paint.
We can create.
at a time like this.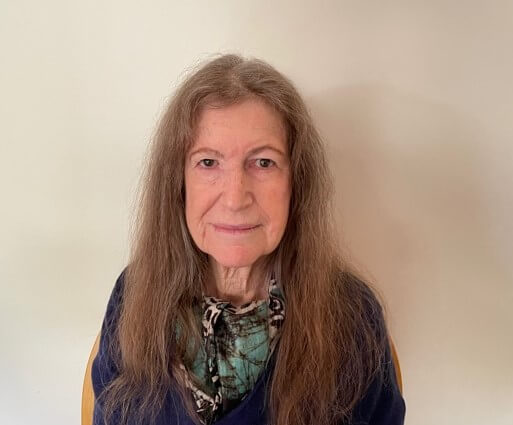 "In a time of tragedy, fear and loss I watched while so many, even my own grandchildren, became involved for the first time to try and make positive changes for others.
I too was moved to contribute in the way I knew I could, by sharing observations of what I saw in our country, the bad and the good, through poetry. I hoped to hold hands with strangers and friends alike, virtually, in a time so many felt so isolated."
-Donna Freeman
Thomas Terceira is a craftsman and a designer. He has shown his jewelry and enamels nationally and internationally. He has been a designer, sample maker, and model maker years. His collage works have won numerous awards and have been frequently exhibited. He has designed and created jewelry for jewelry manufactures and retailers. He has been creating collage, decoupage and mixed media art work for many years.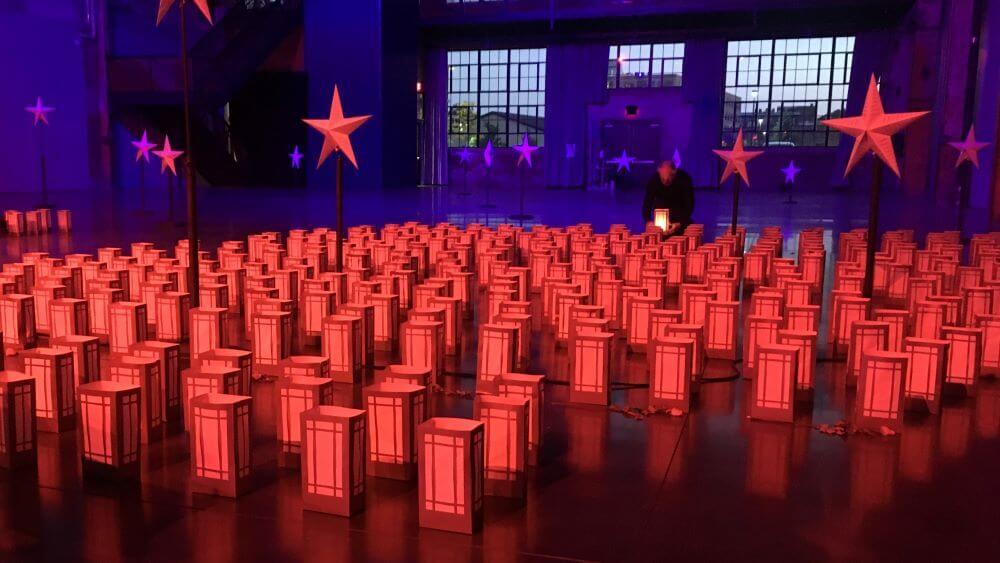 July 23, 2020
For years, WaterFire has been a regular ritual celebrating downtown Providence, a symbol of the city's rebirth after decades of decline. In the pandemic, it's also become a way of memorializing those who have died of COVID-19, through an installation called The Beacon of Hope. Artscape producer James Baumgartner talked with WaterFire's Executive Artistic Director Barnaby Evans.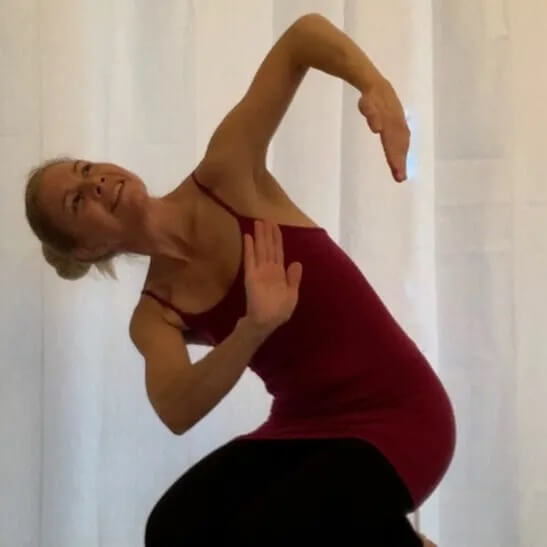 "I created the piece with the social distancing guidelines in mind. Usually dance has a lot of close contact when there's multiple dancers together. And we couldn't do that. So I had to get creative in how to make the dance interesting enough without having that close contact involved at all and also not have the dancers so far apart that the audience couldn't focus on all three at the same time.
Dance is just a different way of communication that can kind of touch you on a more visceral level. So the pandemic gave me the idea of the dance. But then the movement itself, I think, is kind of universal. It didn't necessarily have to be about the pandemic. It could have been loss or anxiety over a multitude of things, or hope over just about anything."

– Nancy Reed is a dancer and choreographer in Rhode Island who works with the Balliamo Dance Collective in East Greenwich. "Dance 2020" was created this year, and presented at the Waterfire Arts Center in Providence this summer.
The Public's Radio is made possible by people just like you. Thank you for your support.